Let's Engage!
THIS WEEK
Our fourth and final candidate to interview for this position is Christine Chesley. Christine is a marine electromagnetic geophysicist and current Postdoctoral Research Scholar at the Woods Hole Oceanographic Institution, where she is investigating water input into subduction zones and the properties of an earthquake rupture barrier. She will give her research seminar, entitled "Probing oceanic lithosphere and its tectonic processes with electromagnetic geophysics", next Wednesday, May 18, at 3:30 in OSB 425, with reception afterwards at 4:30. All are welcome. If you are unable to attend in person, you can find the zoom link on the Ocean website under Events; a recording will be available later.
Christine's teaching demo (unrecorded) to our grad students only will take place on Thursday, May 19, at noon in MSB 123. Her chalk talk (possibly recorded for later viewing) will be that same afternoon at 3-4 pm, also in MSB 123.
If you wish to meet with Christine one-on-one or in a small group, please contact Jody Deming.
Previous Visitors
Dr Hannah Mark
The third candidate for our vacancy in Active Margins is Hannah Mark. Hannah is a marine geophysicist and postdoctoral investigator at the Woods Hole Oceanographic Institution where she is applying her skills as a geodynamic modeler (she is also an observationalist). Her research seminar, entitled "From the surface to the mantle, and back again: two subduction stories", was Wednesday, May 11th 2022.
Dr. Brandon Shuck
Dr. Brandon Shuck is a marine geophysicist and current holder of the competitive Postdoctoral Research Fellowship at the Lamont-Doherty Earth Observatory, where he is studying oceanic lithosphere offshore Cascadia. He gave his research seminar, entitled "A journey through the birth and death of oceanic plates at (re)new(ed) tectonic boundaries", on Wednesday, May 4th.
Dr. Charles S. Stock
Charlie Stock, Research Oceanographer at the NOAA Geophysical Fluid Dynamics Laboratory, was the inaugural 2022 George and Peggy Hunt Fisheries Oceanography Invited Speaker, jointly hosted by the School of Oceanography and the School of Aquatic and Fishery Sciences. He spoke on "Anticipating and acting on ocean change" to a full house on Wed May 4th.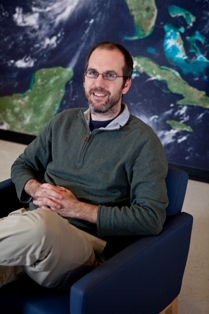 Climate change projections, resting on foundational oceanographic principles, have argued cogently that the ocean at this century's end will be far different from the ocean that began it. Over its first quarter, many projected ocean changes (e.g., increasing warm temperatures, sea ice declines, more corrosive waters, and fisheries on the move) have already transitioned squarely from looming threats to contemporary challenges. Climate-informed decisions across management time horizons are needed for resilient marine ecosystems and coastal communities. I will present advances in climate and earth system models and observations that are increasing our capacity to anticipate physical and biogeochemical ocean change across seasonal to century scales. Anticipating ocean change alone, however, is not sufficient to act upon it. I will summarize the challenges of translating ocean predictions to actionable information and will conclude with an assessment of key obstacles impeding a national infrastructure for climate-informed marine ecosystem decisions and nascent efforts to overcome these obstacles.
Charles A. Stock received his PhD in Civil, Environmental and Ocean Engineering from Woods Hole Oceanographic Institution/MIT Joint Program and his MS of Engineering in Environmental Fluid Mechanics and Hydrology from Stanford University. He began working at NOAA in 2007 as an associate research scholar with NOAA's Geophysical Fluid Dynamics Laboratory and Princeton University. In 2010, Stock received the Presidential Early Career Award for Scientists and Engineers for innovative research at the frontiers of climate and ecosystem science.
Funding for this seminar was generously provided by a gift from George and Peggy Hunt.
Dr. Kendall Valentine
Kendall is a candidate for the assistant professor position on "Active Margins". She gave her main research seminar on Wednesday, April 27th. Kendall Valentine is a coastal sedimentologist (ecogeomorphology) and postdoc at VIMS.
---
Dr. Tessa Hill: This Year's Hedges Scholar
On Thursday, April 28, this year's Hedges Scholar, Dr. Tessa Hill, gave her talk in Hitchcock 132. Her title was "Ocean at the edge of the map: Science and stories from a changing sea." Tessa is hosted by the Chemical Oceanography graduate students. Dr. Hill is a professor at UC Davis and is a research expert in how climate change and ocean acidification impact marine ecosystems and West Coast communities. She has a particular interest in integrating research with policy and decision making. She is visiting as part of the Hedges Visiting Scholar Program, which provides funding to UW chemical oceanography graduate students to invite prominent researchers from outside the university to visit with students and faculty and to present a departmental seminar.